Каталог японских 400-кубовых мотоциклов
Другие мотоциклы класса Классик/стрит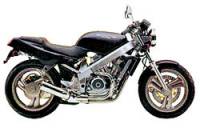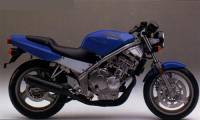 Honda CB-1 (1988)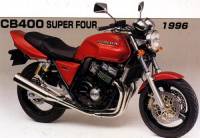 Honda CB-400 SuperFour (1996)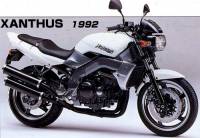 Kawasaki Xanthus (ZR400D) (1992)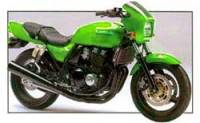 Kawasaki ZRX (1994)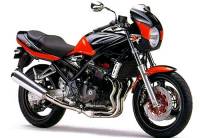 Suzuki Bandit GSF400V (1997)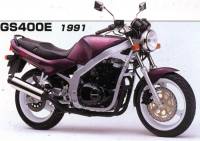 Suzuki GS400E (1991)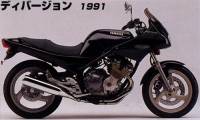 Yamaha XJ400S Diversion (1991)
Suzuki GSX400S Katana (1992)
Мнения владельцев
kwinto (Корнюшенков Дмитрий), общая оценка:










(7/10)
Общее впечатление – приятное. Пока это мой первый мотоцикл, и мне не с чем его сравнить. К какому же классу его определить? Для спортбайка он слабоват. Для классика - слишком спортивная посадка, для стритфайтера – большая масса. Может быть в том вся и прелесть, что любители разных стилей езды и разных мотоциклов найдут в нём для себя что-то своё. Чтобы подвести итог могу сказать, что, это неплохой «тренажёр» для того, кто хочет стать СПОРТБАЙКЕРОМ.
Прочитать весь рассказ ...
Технические характеристики
| | |
| --- | --- |
| Класс мотоцикла | Классик/стрит |


Двигатель

Тип двигателя
: 4-цилиндр., рЯдный,
: 4-х тактный
Объем (куб.см)
: 399
Мощность (л.с./кВт)
: н.д./н.д.
Крутящий момент
: 0 Нм



Габариты

| | |
| --- | --- |
| Общая длина | : 0 мм |
| Ширина | : 0.00 мм |
| Высота по седлу | : 0.00 мм |
| Сухая масса | : 0 кг |


Технические параметры


Переднее колесо
: н.д.
Заднее колесо
: н.д.
Топливный бак
: 17 л
Расход топлива
(на 100 км)
: 0.00 л
Динамика разгона (0-100 км/ч)
: 0.00 с
Максимальная скорость
: 0 км/ч
История и особенности модели
Двигатель
Число цилиндров
4
Число клапанов на цилиндр
4
Тип двигателя
бензиновый
Число тактов
4
Система распределения
DОНС
Система охлаждения
жидкостная
Диаметр цилиндра
52 мм
Ход поршня
47 мм
Рабочий объем
399 см3
Максимальная мощность
39 КВт (53,0 л.с.) / 10500 об/мин
Максимальный крутящий момент
37,2 Нм / 9500 об/мин
Степень сжатия
11,8
Число карбюраторов
4
Диаметр диффузора
32 мм
Система питания
Карбюратор
Трансмиссия
Число передач
6
Наличие заднего хода
Да
Тип привода на заднее колесо
цепью
Размер шин
Размер переднего колеса
100/80-18
Размер заднего колеса
140/70-17
Ходовая часть
Тип подвески переднего колеса
телескопическая обычного типа
Тип подвески заднего колеса
маятниковая с двумя амортизаторами
Тип тормоза переднего колеса
дисковый
Тип тормоза заднего колеса
дисковый
Размеры и масса
База
1430 мм
Длина
2060 мм
Высота по седлу
750 мм
Дорожный просвет
150 мм
Сухая масса
182 кг
Снаряженная масса
 
Динамика и экономичность
Максимальная скорость
 
Время разгона с места до 100 км/ч
 
Расход топлива
 
Объем бензобака
17 л
Suzuki GSX400S Katana - трибьют, а точнее реплика легендарного 750/1100-кубового мотоцикла, который начал свой путь еще в далеком 1979 году и выпускался различными партиями и в различных модификациях вплоть до 2001 года. Итак, в тот ответственный момент, когда японские компании начали бороться за американский и европейский рынки, нужно было какой-то свежее решение. Спортбайки еще не появились, классики уже всех достали. Чопперы "в американском стиле" у японцев еще не прижились. И вот спецы из Suzuki обратились в немецкую компанию
Target Design
с просьбой: а сотворите-ка нам что-нибудь эдакое! И сотворили. Это был сверхсовремененный мотоцикл с 1100-кубовым движком. Отменной управляемостью и немеряной мощностью он не отличался, но все равно стал культовым. Вот его история (на английском). Слишком длинная, чтобы переводить. И так все ясно.
Timeline
After its starting appearance at all the international motorcycle shows in 1979, the
target DESIGNed
GSX1100S Katana
was officially launched in early 1980. It is impossible to over-estimate the impact of the Katana on the motorcycling world - it may as well have been from another planet...
No-one had used a design house to style a motorcycle before, and if the original Katana had never happened, a bike released this year utilising the flowing lines of the prototype would still look pretty impressive, 17 years on. Being an old fart, I can remember the first arrivals hitting the local showrooms. It really was a case of love it or hate it, and although I thought it looked mega, in general the conservative motorcycle buying public found it a bit avant-garde for their tastes. It wasn-t a massive seller initially, but as punters became more used to its in-yer-face styling, more and more found their way out onto the roads. I think Suzuki bottled it after the first months or so, because the inevitable smaller versions in the Suzuki range utilised the Katana styling in a much diluted form. Although the original Kat died out in Europe in late 1983, it had mage a big impact on the global market as a whole, and Suzuki road motorcycles continued to be derivative of the original design for some years to come.
The original targetdesigned pre-production prototype, at first glance very similar to the subsequent production machine, on closer inspection reveals how the purity of the design was compromised when Suzuki got around to actually manufacturing the bike for the real world. The way the prototype-s fairing curve blends into the top of the very shallow wedge-shaped tank, the way the rider-s portion of the seat is raised above the pillion, the rear seat unit itself being almost custom-bike short. the prototype also lacks anti-dive forks, and a flyscreen (the fairing simply curving neatly over the headlight), and the work-s style stubby four-into-one never actually appeared on a production Katana. Well okay, it did, but not until the release of the homage models in the early Nineties.
Late 1980 saw the official production release of the
GSX1100S Katana
. Although closely resembling the prototype which had done the rounds on the show circuit, production realities had taken their toll on the original concept design. Even so, it was still a stunning motorcycle, its space-age styling being literally years ahead of its time.
 

Quick Specs: GSX1100SZ

 
Capacity
1075cc
Bore & Stroke
72x66mm
Power
111ps/8500rpm
Torque
9.8kgm/6500rpm
Tyres
3.50-19 Front 4.50-17 Rear
Weight
232kg.
 
By early 1981, the big Kat had been joined in the Suzuki line up by the
GS650G Katana
, this shaft-drive all rounder being basically just a cleverly face-lifted GS. For Europe we also got a chain drive
GS550
version, and for most markets, the GSX400F, although the 400 didn-t carry the Katana moniker, it very obviously drew most of its design elements from the Katana line up. More interesting for real Katana aficionados, late 1981 saw the release of the Superbike-homologated Katana 1000S. To qualify for the popular international Superbike racing series of that time, bikes raced in this series had to be derived from an actual production motorcycle not exceeding 1000cc. Other regulations stated that certain mechanical parts could also not be changed, hence the production model copped for a rather nice set of expensive looking Mikuni smoothbores, and various other racing-orientated mods. Production of this model was limited and a good original Kat thou can command pretty serious dough these days.
 

Quick Specs: GS650G

 
Capacity
673cc
Bore & Stroke
62x55.8mm
Power
65ps/9500rpm
Torque
5.3kgm/8500rpm
Tyres
3.25-19 Front 4.25-17 Rear
Weight
210kg
 
This year the big Kat disappeared from quite a few international markets, including the US. The Yanks big 1100 replacement was the GSX1100E, whose styling although giving more than a cursory nod to the Kat, had otherwise been severely toned down for the sensitive US market, the end result being neither one thing nor the other, and overall pretty damn ugly.
On the other side of the Pacific, parallel-imported big Kats had made such an impact on the Japanese domestic market, that a Japan-only 750 version was produced. Basically identical to the 1100, but with the shell-crank GSX750E engine fitted, and a larger diameter back wheel. Suzuki had become concerned that the rather long dimensions of the Katana would make life difficult for Jap punters, so they rather unwisely fitted the most bizarre set of aluminium pull-back clip-ons ever to grace a motorcycle before or since! Thankfully the majority of Japanese customers slung these horrors into the nearest skip, although original-barred examples still find their way to these shores occasionally. The
GSX750S
was a real sales success in Japan, and Suzuki-s reservations about motorcycle size and diminutive customers seem a little amusing now when you consider what a big seller the 1200 Bandit is over there, these days. 1982 saw the continuation of the
GS650
and
550 Kats
, and two baby versions being the GSX400 and 250 four-stroke parallel twins. This year also saw the release of the GS125E, and even this humble little tiddler copped for a Kat-style tank.
 

Quick Specs: GSX750S

 
Capacity
747cc
Bore & Stroke
67x53mm
Power
69ps/8500rpm
Torque
6.2kgm/7000rpm
Tyres
3.25-19 Front 4.00-18 Rear
Weight
222.5kg
 
Saw the original big Kat made available in some markets, including Europe, in a slightly modified MkII version. Apart from some rather more adventurous paint jobs, the bike also sported aluminium one-piece footrest hangers, new wheel spoke design to bring it into line with the EFE range of Suzuki models, and some other very minor detail changes. Over in Japan changes were also afoot with the release of the
GSX750S2
. The 750 also had its spoke pattern changed, but rather more radically it now sported a 16" front wheel. It had also picked up a couple of extra bhp along the way. The 650 (now with nose cone fairing), 550 and other smaller variants were still available in many other markets, but the obsolescence bell was beginning to toll rather loudly.
Big Kats were still available in some European markets, but one rather suspects these were left over stock from previous years, Suzuki-s flagship big bike now being the GSX1100EFE. As with most Suzuki-s at the time, the EF range continued to use the rather flattened out shallow S-shaped tank/seat/tailpiece design inspired by the original Katana. However, over in Japan, am all-new
GSX750S3 Katana
, based on the GSX750EFE was launched. Although very much Katana in design, the original (and some would say essential), nose cowling had been replaced by a much bigger three-quarter affair, which housed a motorised flip-up headlight. With yet another power increase, the S3 was very popular in Japan, and also sold in Australia, and about twelve months later a batch of 200 turned up in official Suzuki UK showrooms, but, strangely, in unmodified Japanese domestic specification...
 

Quick Specs: GSX750S3

 
Capacity
747cc
Bore & Stroke
67x53mm
Power
77ps/9000rpm
Torque
6.4kgm/7500rpm
Tyres
100/90-17 Front 120/90-17 Rear
Weight
212kg
 
There might still have been a couple of brand new MkII spec 1100 Kats kicking around, although they-d certainly have been produced a couple of years earlier, otherwise in Europe the Katana moniker could be considered dead and buried. In Japan the S3 was still available, now being sold alongside the GSXR750F - the S3 didn-t actually bow out in Japan till 1986- but with an international perspective, it appeared the Katana had been laid to rest.
Whilst in Europe and Japan the Katana range was drifting into either obscurity or cult-like status, those crazy crazy Yanks decided to resurrect the Katana by slapping stickers on US-spec GSX600/750/1100F models. The legendary Katana name was now being used to market the soft sports/touring versions of the GSXR throughout the US, strangely so, as the Katana had never been a big seller in America, and to many anoraks, myself included, this decision seemed to devalue the Katana legend.
More Yankee shenanigans, although all was not lost...
To celebrate Suzuki-s 70th anniversary, Suzuki took the unprecedented step of remanufacturing a batch of 200 Katana 1100-s in totally original 1980 specification. These bikes were individually numbered, all silver, and all sold on the day of their release.
Not wanting to miss out on a good thing, Suzuki released another 200 1100 Kats for 1991, presumably to celebrate their 71st anniversary...! Also not wanting to miss out on what is essentially the biggest market in Japan, they also released a
250
Bandit-based Katana replica. So faithful was this reproduction of the original prototype that it even carried the stubby four-into-one exhaust system which had never actually found its way into production previously. At a distance, the 250 Katana is almost indistinguishable from its larger ancestor, the biggest give-away being the single front disc, three spoke Bandit mags, and subtly understated radiator. Ironically, the rubber found on this 250 replica is as wide as the original 1100, and when, with crushing predictability, Suzuki released a
400
replica later that year, not only did this pocket rocket have bigger rubber than the 1100, it also had bigger and better brakes. The 400 was even more faithful in its reproduction, as its wheel pattern mimicked the classic Suzuki cross-over star pattern, and it carried a black chrome four-into-two exhaust system with long tapered silencers.
 

Quick Specs: GSX250S

 
Capacity
248cc
Bore & Stroke
49x33mm
Power
40ps/13500rpm
Torque
<2.7kgm/11000rpm
Tyres
110/70-17 Front 140/70-17 Rear
Weight
160kg
 
 

Quick Specs: GSX400S

 
Capacity
399cc
Bore & Stroke
52x47mm
Power
53ps/10500rpm
Torque
3.8kgm/8000rpm
Tyres
100/80-18 Front 140/70-17 Rear
Weight
182kg
 
No 1100 for this year, but zillions of 250-s and 400-s.
Popularity of the pocket Katana-s was beginning to wain on the Japanese domestic market, and with the release of the Impluse and revamped Bandit, Suzuki-s 400 retro range was getting a little confused.
This was the last year for production for the smaller Katana replicas, but later this year would see the remanufactured 1100 Katana obtaining full unlimited production (GSX1100SY), and a place in Suzuki-s general line-up which it retained to 2001. One of the strangest things about the big Kat-s re-emergence as one of Suzuki Japan-s present models is that its claimed power output is the highest of all Suzuki domestic models currently available. And if you want one, the exchange rates as we go to press (August 1997), mean it would cost you just shy of Ј8000.
After just over 20 years, production of the Katana finally ends in Japan with a limited edition. Only 1100 kats were produced before they dismantled the assembly line. They are for the Japanese market only like the GSX-1100SR (1994-1999) and this GSX-1100SY (2000) are both for the Japanese market only. The GSX-1100SY comes in only one colour (called "sonic silver"). Also the wheels and engine are coloured black. Changes from the GSX-1100SR:
Braces in the frame near the pivot
Better front brakes (Nissin 4 pot) 300mm floating discs
Tubeless tires
Gold chain
Special top bridge (upper bracket)
Serial number engraved on emblem on top bridge
Bolt on foot rests (that means they are removable)
Hazard indicators
In case you are not familiar with the GSX-1100SR:
For the Japanese market
Silver colour only
Clocks show only up to 180km/h
Ignition de-tuned for Japanese regulations (the "limiter" will not allow the bike to achieve more than 180km/h)
Smaller inner diameter of exhaust pipes
Smaller air intake passage of airbox
Electric power assisted clutch
19 litre petrol tank because of space taken by the clutch motor
Max power 96ps
По материалам сайта
http://www.katanacentral.co.uk