Каталог японских 400-кубовых мотоциклов
Модельный ряд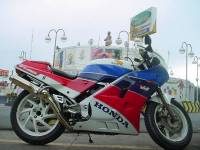 Honda VFR 400R (1988)
Другие мотоциклы класса Спорт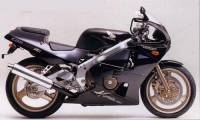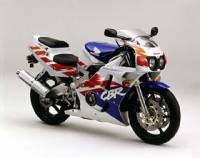 Honda CBR 400RR (1992)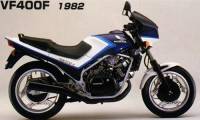 Honda VF-400F (1982)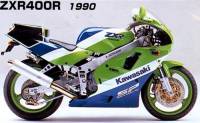 Kawasaki ZXR-400R (1990)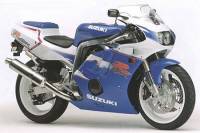 Suzuki GSXR 400R (1995)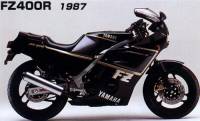 Yamaha FZ-400R (1987)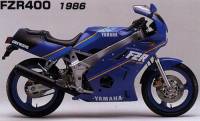 Yamaha FZR-400 (1986)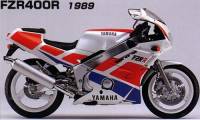 Yamaha FZR-400R (1989)
Honda VFR 400R (1989)
Мнения владельцев
Пока не поступало
Технические характеристики

Двигатель

Тип двигателя
: 4-цилиндр., V4,
: 4-х тактный
Объем (куб.см)
: 399
Мощность (л.с./кВт)
: 59/н.д.
Крутящий момент
: 0 Нм



Габариты

| | |
| --- | --- |
| Общая длина | : 0 мм |
| Ширина | : 0.00 мм |
| Высота по седлу | : 0.00 мм |
| Сухая масса | : 0 кг |


Технические параметры


Переднее колесо
: н.д.
Заднее колесо
: н.д.
Топливный бак
: 18 л
Расход топлива
(на 100 км)
: 0.00 л
Динамика разгона (0-100 км/ч)
: 4.00 с
Максимальная скорость
: 215 км/ч
История и особенности модели
NC-30 появился на японском рынке в начале 1989 года и официально продавался плоть до 1994 года, а возможно, и позже, потому что выпущено этих мотоциклов было великое множество. NC-30 - не официальная абривиатура, официальное название этого мотоцикла именно "VFR400R", собственно, именно под этим именем он и известен во всем мире. Или наоборот: если мы говорим о VFR400R, в 90% случаев мы подразумеваем именно NC-30. Honda построила NC-30 с целью захватить сразу несколько благодарных рынков: внутрияпонский, Великобританию, Германию и, по возможности, США. До конца 1990 года в эти страны мотоциклы поставлялись официально, а потом - как "серый импорт". Популярность VFR400R в Японии была настолько велика, что рынок был просто переполнен этими пластиковыми ракетами. Надо заметить, что VFR400R поставлялись в разные страны с учетом специфики правил ТО и тому подобных, например, в Великобританию мотоциклы шли практически без изменений, а в Германию и Австрию - с новыми осветительными приборами и "задушенной" электроникой. Кроме изменений в расцветках, никаких других изменений в конструкции этого мотоцикла за все годы выпуска не произошло. К великому множеству расцветок руку также приложили десятки тюнинговых ателье, которые готовили эти маленькие ракеты для гонок. Соответсвенно, использовались совершенно различные цветовые схемы, самые часто встречаемые: Repsol, Smokin-Joe, Castrol, NSR и Shell Advance. Модели и вариацииИтак, главной задачей для покупателя является определить, для какого рынка подготовленный аппарат ему достался. Обычно, для этого достаточно поднять пассажирское сиденье (точнее то, что им называют) и найти под ним наклейку или стикер с бар-кодом, расположенный на задней части крыла прямо под планкой для номерного знака. Поскольку многие из мотоциклов не были официально поставлены в те страны, откуда их потом привезли в Россию, многие сопутствующие документы и наклейки могут врать. По наклейкам, если они сохранились, можно определить лишь год выпуска в большинстве случаев. Но поскольку многие мото к нам попали не из японских/британских/немецких салонов и аукционов, а с "помоек", наклейкам верить и вовсе не приходится. Отсюда вывод: наиболее ценной информацией для российского пользователя является буква в VIN-е, она ошибаться не может. Буквы для обозначения модельных рядов у Honda используются аналогично американским производителям 80-х годов. (Здесьможно найти много информации по разным VINам.) Как результат, мотоциклы сделанные в 1989 году должны иметь букву "K", 1990 - "L", и так далее. При этом, буквы "I", "O", "Q", "U" и "Z" пропускаются. Некоторые модели имели дополнительные коды, например, для обозначения цветов - буквы латинского алфавита. Развичия от модели к модели - минимальны, но и о них надо знать. Буква "K". Одно из основных технических отличий - использование стандартной вилки Showa, которая ко всему прочему имела устаревший дизайн - "антиклевковую систему". Такие вилки ставились лишь на первые выпуски NC-30, и их не много. Ибо даже на NC-24, предшествующую модель, вилки с "антиклевком" перестали ставить уже в 1988 году. За информацией о различиях между "антиклевковой" и новой, "картриджной" системами обратитесь к статье на Race-Tech.com: Cartridge forks.) Еще одна устаревшая деталь "K" - задний амортизатор. Поздние модели NC-30 были укомплектованы амортизатором Showa с внешним компенсатором, а ранние модели - без него, поэтому эти амортизаторы были гораздо мячге, но и жили меньше. Кроме подвески, "К"-шки обладали маленькими жиклерами во всех 4-х карбюраторах Keihin (110 против 115 в передних и 118 в задних, как в более поздних моделях). Базовые цветовые схемы NC-30 были такими же, как у старшего брата RC-30 - VFR750R: красно-бело-синий комплект. The only other obvious differences between the "K", "L" and "N" models related to the colors of the braking components (i.e., the brake calipers and disc carriers), which went from gold on the "K" to black on the "L" and early "N" and finally to gold on the final "N" variations, the "N-III" and "N-IV". Country-specific differences are minor, but can be significant. UK-specbikes, which were offered in "L" and "M" configurations, had larger, hinged mirrors, oil coolers and MPH speedometers, for example. German-specNC-30s (of which no more than 1000 were ever produced) had larger headlights and hinged mirrors, and possibly a slightly different paint scheme. There were also Austrian-specNC-30s, as indicated in the UK-spec Owners Manual and Microfiche. These bikes were nearly identical to the UK-spec models, but they came with different carbs and KPH speedometers. Export models lacked the home market-s speed restrictions, so they were equipped with higher-reading speedometers. There is some evidence (also from the UK-spec microfiche) that there may also have been an NC-30 version produced for France as well, but European-spec NC-30s were always very expensive and sold poorly, so these models may never have been produced or sold. The following table details the beginning serial and engine numbers for most of the NC-30 production run:


| | | | | | |
| --- | --- | --- | --- | --- | --- |
| Year | Code | Region | Beg. Engine #s | Beg. Frame #s | Carb ID #s |
| 1989 | K | Japan | NC13E-1200001 | NC30-1000001 | VDE3A-A |
| 1990-91 | L | Japan | NC13E-1300001 | NC30-1050001 | VDE3D-A |
| 1990-91 | L | U.K. | NC13E-2100007 | NC30-2000006 | VDE3B-A |
| 1990-91 | L | Austria | NC13E-2100009 | NC30-2000009 | VDE3C-A |
| 1991-93 | M | U.K. | NC13E-2200001 | NC30-2100001 | VDE3F-A |
| 1991-93 | M | Austria | NC13E-2200006 | NC30-2100006 | VDE3G-A |
| 1991-93 | M | France | NC13E-220000? | NC30-210000? | VDE3?-A |
| 1991-93 | M | Germany | NC13E-220000? | NC30-210000? | VDE3?-A |
| 1992-on | N | Japan | NC13E-1400001 | NC30-1100001 | VDE3D-B |
Specifications1
Item
Specifications
Dimensions:
Overall length
1.985m (78.1 in.)
Overall width
705mm (27.8 in.)
Overall height
1.075m (42.3in.)
Wheelbase
1.345m (53.0 in.)
Ground clearance
125mm (4.9 in.)
Dry weight
175kg (385.8 lb.)
Curb weight
192kg (423.3 lb.)
Maximum weight capacity
347kg (765.0 lb.)
Frame:
Frame type
Twin-spar aluminum
Front suspension
41mm Showa cartridge forks2
Front wheel travel
120mm (4.7 in.)
Rear suspension
Single-sided swing arm
Rear wheel travel
120mm (4.7 in.)
Rear damper
Gas-filled damper with remote reservoir2
Front wheel size
17x3.5 in.
Rear wheel size
18x4.5 in.
Front tire size
120/60 VR17
Rear tire size
150/60 VR18
Front brakes
Double floating disc; 4-piston Nissin calipers
Rear brake
Single solid disc; 2-piston Nissin caliper
Caster angle
25-deg 20-
Trail
96mm (3.8 in.)
Fuel tank capacity
15 liters (4.0 U.S. gal., 3.5 Imp gal.)
Fuel tank reserve capacity
2.0 liters (0.5 U.S. gal., 0.4 Imp gal.)
Engine:
Bore and stroke
55.0mm x 42.0mm (2.16 in. x 1.65 in.)
Displacement
399 cm? (24.3 cu in.)
Compression ratio
11.3 : 1
Valve train
Gear driven DOHC; 4 valves per cylinder
Intake valve opens @ 1mm lift
15-deg. BTDC
Intake valve closes @ 1mm lift
35-deg. ABDC
Exhaust valve opens @ 1mm lift
35-deg. BBDC
Exhaust valve closes @ 1mm lift
5-deg. ATDC
Lubrication system
Forced pressure and wet sump
Oil pump type
Trockoid
Cooling system
Liquid cooled; dual radiators and cooling fan
Air filtration
Paper filter
Crankshaft type
Unit-type; 4 main journals; 360-deg.
Firing order
#1 @ 90 deg.; #4 @ 270 deg.; #3 @ 90 deg.; #2 @ 270 deg.
Cylinder arrangement
4 cylinders; 90-deg. V
Carburetor:
Carburetor type
Constant velocity Keihin; 4 carburetors
Throttle bore
32mm (1.3 in.)
Drive train:
Clutch system
Multi-plate, wet
Clutch operation
Cable operated
Transmission
6-speeds
Primary reduction
2.117 (34/72)
Final reduction (sprockets)
2.666 (15/40)
Drive chain slack
15-25mm (5/8-1 in.)
Drive chain size/links
525/104
Gear ratio, 1st
2.928 (14/41)
Gear ratio, 2nd
2.166 (18/39)
Gear ratio, 3rd
1.800 (20/36)
Gear ratio, 4th
1.591 (22/35)
Gear ratio, 5th
1.435 (23/33)
Gear ratio, 6th
1.318 (22/29)
Gearshift pattern
Left foot operated return system: 1—N—2—3—4—5—6
Electrical:
Ignition system
Digitalized full transistor ignition
Starting system
Electric starter motor
Charging system
Triple phase output alternator
Regulator/rectifier type
SCR Shorted/triple phase full wave rectification
Lighting system
Battery (YTX7A-BS)
Lubrication:
Engine oil capacity at draining
2.4 liters (2.54 U.S. qt., 2.11 Imp. qt.)
Engine oil capacity at disassembly
3.0 liters (3.17 U.S. qt., 2.64 Imp. qt.)
Engine oil capacity at oil filter change
2.5 liters (2.64 U.S. qt., 2.2 Imp. qt.)
Recommended engine oil viscosity
SAE 10W-40
Oil pressure at oil pressure switch
490-588 kPa (5.0-6.0 kg/cmІ, 71-85 psi) @ 5,000 rpm (80 deg.C, 176 deg.F)
Fuel system:
Main jets (Front cylinders)
# 122
Main jets (Rear cylinders)
# 120
Slow (idle) jets
# 35
Pilot screw initial opening
2 turns out
Pilot screw final opening
1/4 turn out
Float level
6.8mm (0.28 in.)
Carburetor vacuum difference
Within 40 mmHg (1.6 inHg)
Base carburetor (for carburetor synchronization)
No. 2 carburetor
Idle speed
1,300 +/- 100 rpm
Throttle grip free play
2-6mm (0.08-0.24 in.)
Clutch system:
Clutch lever free play
10-20mm (0.4-0.8 in.)
Clutch disc thickness
2.92-3.08mm (0.115-0.121 in.)
Clutch disc service limit
2.8mm (0.110 in.)
Clutch plate warpage limit
0.30mm (0.012 in.)
Cooling system:
Coolant capacity (radiators & engine)
2.1 liters (2.22 U.S. qt., 1.85 Imp. qt.)
Coolant capacity (reserve tank)
0.2 liter (0.21 U.S. qt., 0.18 Imp. qt.)
Radiator cap relief pressure
108-137 kPa (1.10-1.40 kg/cmІ, 16-20 psi)
Thermostat begins to open
80-84 deg.C (176-183 deg.F)
Thermostat fully open
95 deg.C (203 deg.F)
Thermostat valve lift
8.0mm (0.23 in.) min.
Wheels/Tires:
Cold tire pressure (driver only, front)
33 psi
Cold tire pressure (driver only, rear)
33 psi
Cold tire pressure (driver & pass., front)
33 psi
Cold tire pressure (driver & pass., rear)
36 psi
Front suspension:
Fork spring free length
277.3mm (10.92 in.)
Fork spring direction
Tighter coils on bottom
Fork oil weight
10W
Fork oil level
122mm (4.8 in.)3
Fork oil capacity
390cc3
Steering bearing pre-load
1.0-1.5kg (2.2-3.3 lbs.)
Rear suspension:
Shock spring free length
158.7mm (6.2 in.)
Shock spring installed length
147.7mm (5.81 in.)
Nitrogen gas pressure
98 kPa (142 psi)
Brakes:
Brake fluid type
DOT 4
Front brake disc thickness
4mm (0.16 in.)
Front brake master cylinder I.D.
14.000mm (0.5512 in.) (9/16")
Front brake caliper cylinder I.D. (upper)
32.030mm (1.2610 in.)
Front brake caliper cylinder I.D. (lower)
30.230mm (1.1902 in.)
Rear brake disc thickness
6mm (0.24 in.)
Rear brake master cylinder I.D.
14.000mm (0.5512 in.) (9/16")
Rear brake caliper cylinder I.D.
25.400mm (1.0000 in.)
Battery/Charging system:
Reg/rec regulated voltage/amperage
13.5-15.5v (0-6A) @ 5,000rpm
Battery capacity
12v (6AH) YTX7A-BS
Battery charging rate (normal)
0.7A/5-10 hr.
Battery charging rate (quick)
3.0A/1 hr.
Battery voltage
13.0-13.2v
Ignition system:
Spark plug (standard)
NGK ER9EH or ND Y27FER
Spark plug (racing)
NGK ER10EH or ND Y31FER
Spark plug (cold climate)
NGK ER8EH or ND Y24FER
Spark plug gap
0.6-0.7mm (0.024-0.028 in.)
Ignition timing "F" mark
18-deg. BTDC @ 1,200rpm
Advance starts
1,800rpm +/-200rpm
Advance stops
12,000rpm +/-200rpm
Full advance
37-deg. BTDC +/-2-deg. @ 12,000rpm
Lights/Meters/Switches:
Main fuse
30A
Fuse
20A x 1; 10A x 3
Headlight (high/low beam)
12v 60/55w (H4)4
Tail/brake light
12v 5/21w5
License light
12v 5w6
Position light
12v 5w7
Turn signal light
12v 21w8
Instrument light
12v 1.7w x 5
Oil pressure warning indicator
12v 1.7w
Oil temperature indicator
12v 1.7w
High beam indicator
12v 1.7w
Turn signal indicator
12v 1.7w
Neutral indicator
12v 1.7w
Starting system:
Starter motor brush length
12-13mm (0.47-0.51 in.)
Notes:
These specifications pertain mainly to the UK-spec "L" and "M" models; some J-spec differences are noted.
J-spec "K" models are equipped with Showa damping rod forks and are not equipped with a remote reservoir rear shock.
For "K" models, fork oil level is 90mm and fork oil capacity is 450cc.
J-spec is 12v 60/35w.
J-spec is 12v 5/18w.
N/A to J-spec bikes.
J-spec is 12v 1.7w.
J-spec is 12v 15w.
| | | |
| --- | --- | --- |
| | | Origin: VSource.org 1999-2003 [Sources: Honda VFR400RL-M Service Manual, Parts Manuals and Microfiche; Honda CBR VFR, Guido Saliger and Thomas Beyer, Art Motor Verlag 1994] |
Honda Part Numbering System
As Used in the Parts CatalogsGeneral parts:
XXXXX - XXX - XXX(XX)Function Number
XXXXX- XXX - XXX(XX)Component NumberXXXXX - XXX- XXX(XX)Parts Classification Number(These numbers relate to the Product Code of the first Honda motorcycle model to use a particular part; if the same part is subsequently used on another model, the Parts Classification Number generally remains unchanged. Some of these numbers are listed here. For more information, see the Parts Interchange Infopage.)XXXXX - XXX - XXX(XX)Modification DesignationXXXXX - XXX - XXX(XX)Subcontractor DesignationXXXXX - XXX - XXX(XX)Color Code (if any)(Part number color codes do not necessarily correspond to the Honda motorcycle paint codes listed here; they are keyed to the Honda paint codes listed in the relevant Description section of the Parts Catalog.)
Bolts, nuts and other standard parts:
XXXXX - XXXXX - (XX)Function NumberXXXXX- XXXXX - (XX)Type NumberXXXXX - XXXXX- (XX)Dimensions(Dimensions of many common parts are reflected in this section of the part number—see Dimensions below.)XXXXX - XXXXX - (X)(X) ISO Standard Designation (if any)XXXXX - XXXXX - (X)(X) Chemical Surface Treatment (if any)
Common abbreviations:
| | |
| --- | --- |
| ASSY. | Assembly |
| COMP. | Complete |
| R. | Right |
| L. | Left |
| STD. | Standard |
| MM | Millimeter |
| G | Gram |
| T (22T) | Tooth (22 Teeth) |
| A | Ampere |
| V | Volt |
| W | Watt |
| WL | With labelling |
| WOL | Without labelling |
| KPH | Kilometers per hour |
| L.E.D. | Light emitting diode |
| MPH | Miles per hour |
| L (100L) | Link (100Links) |
| A.C. | Alternating current |
| D.C. | Direct current |
| IN. | Intake |
| EX. | Exhaust |
| FR. | Front |
| RR. | Rear |
| HEX. | Hexagonal |
| A.M. | Attaching mark |
| T.M. | Transcript mark |
| C.D.I. | Capacitive discharge ignition |
Dimensions:
| | | |
| --- | --- | --- |
| Parts | Example | Interpretation |
| Bolt (screw) | 6 x 12 | 6mm diameter, 12mm length |
| Pin | 8 x 14 | 8mm diameter, 14mm length |
| O-ring | 9.5 x 1.6 | 9.5mm diameter, 1.6mm thickness |
| Oil seal | 14 x 24 x 5 | 14mm inside diameter, 24mm outside diameter, 5mm thickness |
| Tube | 5 x 130 | 5mm inside diameter, 130mm length |
| | | |
| --- | --- | --- |
| | | Origin: VSource.org 1999-2003 [Source: Various Honda Parts Lists and Microfiche] |